TSL-Pro-Line Triple Sealed Aluminium Recessed Manhole Cover, 80mm Depth - ALL SIZES, FREE EXPRESS DELIVERY
New for 2017/18; "TSL-Pro-Line" Triple Sealed Aluminium Inspection Chambers; exclusively stocked by EcoGrid Ltd in the UK!

Extruded Aluminium ¦ Highly Aesthetic ¦ Airtight ¦ All Sizes & Depths ¦ Interior & Exterior Usage ¦ Tested to EN124
Choose your cover size in the dropdown.

FREE DELIVERY: The prices referenced on this page are the total you will pay inclusive of shipping & VAT - no extra costs, no hidden fees.

The free delivery included is EXPRESS 1-2 working days!
Clear Opening: Please select in the dropdown below
External Dimensions: Please see product description
TSL-Pro-Line Triple Sealed Aluminium Recessed Manhole Cover & Frame
Overall depth: 80mm
In-tray depth: 61mm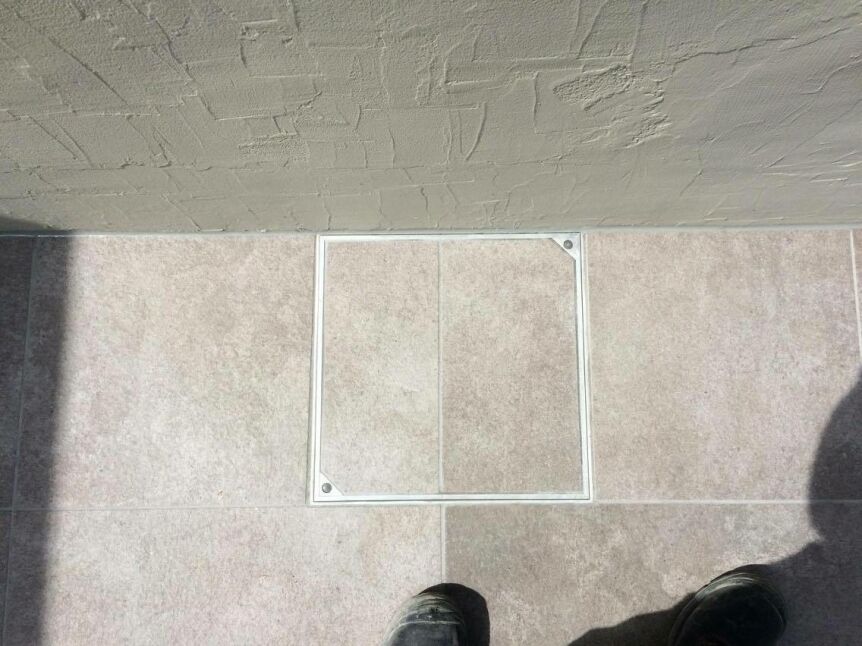 Available sizes are as follows:


Clear opening: 300 x 300 x 61mm (external size: 390 x 390 x 80mm)


Clear opening: 400 x 400 x 61mm (external size: 490 x 490 x 80mm)


Clear opening: 500 x 500 x 61mm (external size: 590 x 590 x 80mm)


Clear opening: 600 x 600 x 61mm (external size: 690 x 690 x 80mm)


Clear opening: 700 x 700 x 61mm (external size: 790 x 790 x 80mm)


Clear opening: 800 x 800 x 61mm (external size: 890 x 890 x 80mm)


Clear opening: 900 x 900 x 61mm (external size: 990 x 990 x 80mm)


Clear opening: 1000 x 1000 x 61mm (external size: 1090 x 1090 x 80mm)

If you face any difficulty clarifying what the clear opening size corresponds to, please refer to the last featured image (above). The best way to decide which cover is most suitable for you is by measuring the hole in the ground that is being covered.
Introducing the TSL-Pro-Line Aluminium Inspection Chambers
– exclusive to EcoGrid Ltd in the UK!
The brand new TSL-Pro-Line recessed manhole covers are triple sealed & locking, featuring a highly aesthetic extruded aluminium construction that's lorry load bearing and manufactured to BS:EN124 standard.
Perfect for both interior and exterior use
–
covering a wide range of applications with ease – including with tiles, paving and most floor finishes.
Our TSL-Pro-Line 80 cover has a height of 80mm overall making it simple to select the right recess. This cover range is an odour, gas and waterpoorf aluminium solution with the cover screwed on to the outer frame.
Featuring three sealss; two at the base and a "T-rubber" seal built-in to the side of the outer frame. The unique "T-rubber" seal allows for an additional odour and gas barrier, elasticity to avoid tension between the recessed cover and frame, and the prevention of dirt between the cover and frame.

Four lifting keys and a reinforcement mesh are supplied.
Additional info. & properties
Extruded aluminium frame & cover
Easy to open with lifting keys provided
Application: interior & exterior
The cover is gas, odour and waterproof
The cover is screw tight (locked)
Featuring a high-grade EPDM seal with "T-rubber" seal on side of frame
Standard equipped recess cover with reinforcement mesh
Bottom plate made of a 3mm galvanised steel
Bespoke Manhole Covers
These new covers are also available in 100mm depths with bespoke sizes on request.
We offer a made to order service for a vast range of manhole covers to meet your requirements: biomass, multi-part, decorative finishes, bespoke sizes, extra security, spring assisted and more. Bespoke manhole covers, including EcoGrid and GrassTop Covers, are non-returnable items as they are made to order.
If you require a bespoke service, or have any queries regarding our products, don't hesitate to contact us by calling 0151 639 4281 or send an email to
sales@ecogrid.co.uk
.
More Information

| | |
| --- | --- |
| SKU | ALUMLT4 |